Tuesday, June 20, 2006
Odds & sods
* Tonight, the
Miami Heat
aim to win their first NBA title. Game 6 will be played in Dallas (9 pm start on ABC). The Heat lead the series, 3-2.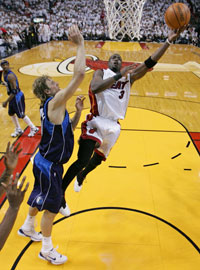 For the Mavs to force a Game 7, they have to find a way to stop
Dwyane Wade
, who scored 42, 36 and 43 points in the Heat's 3 home victories. If the Heat win, then you heard it here first at Blooming Ideas. I predicted "The Heat in 6" on June 4.
* Since being anointed the best team in the NL, if not all of baseball last week,
the Mets
have dropped 3 out 4 games at home. Last night they lost to the Reds, whose ace Bronson Arroyo (9-3) tossed a complete- game 7-hitter. Tonight's match-up: Steve Trachsel (4-4) vs. Elizardo Ramirez (2-5).
Right now, 4 Mets starters are leading in the All-Star voting: David Wright (3B), Jose Reyes (SS), Carlos Beltran (OF) and Paul Lo Duca (C). Carlos Delgado is 2nd to Albert Puljos in 1B voting.
In additional Mets news, they're considering signing
Edgardo Alfonzo
, who was dropped by the Blue Jays after being traded by the Angels. For more on "Fonzie," see my post, "Bring me the head of Edgardo Alfonzo" (May 26).
* Is it just me or has
Entourage
gotten off to an incredibly boring start to the new season? I mean, who cares about
Aquaman
? A blackout in LA with Vince mimicking
Almost Famous
? C'mon. Weak. Even Jeremy Piven's not funny. What gives? Maybe the show has already peaked.
* Former Yankee reliever
Steve Karsay
has retired. Karsay, who has a bad shoulder, had been in the A's bullpen. Now that he's retired, I can tell you that Karsay is a pot smoker who on numerous occasions over the last year contacted myself and
High Times
seeking out marijuana. He attended the 5th Annual Stony Awards in September. I wish Karsay the best of luck in whatever he chooses to do outside of baseball. Perhaps he could start by making a donation to NORML.
*
Hilton Ruiz's family
has filed a suit against Club Utopia in New Orleans. On May 19, the jazz pianist was found lying in a pool of blood outside the club. He died on June 6. The family claims that Ruiz was attacked and beaten in the club and that the bouncers failed to protect him. "We are very confident there are people out there who are aware of what happened to Mr. Ruiz in that club in the early hours of May 19," the Ruiz family's attorney Scott Galante commented. For more on Ruiz, see my post, "Hilton Ruiz - 1952-2006" (June 6).
* After a 2-week layoff,
the Bonghitters
will return to Central Park on Thursday to play DC Comics. The Slugging Stoners are 5-0.