Thursday, December 20, 2007
Walk Hard: The Dewey Cox Story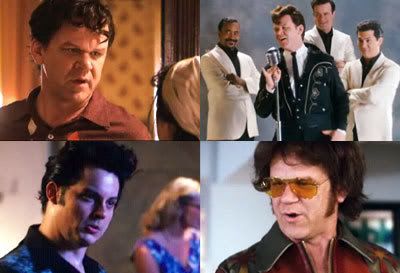 John C. Reilly delivers a Steve Martin-esque performance as a guitar-playing doofus who travels through modern musical history. From the '50s, when Dewford Randall Cox emerges as a rock crooner, to the '60s, when he drops acid and turns into Brian Wilson, to the '70s when he goes through the inevitable disco transformation,
Walk Hard
tramples all over hallowed pop-music ground in an anything-goes,
Airplane!
-style spoof.
Lower left: the White Stripes' Jack White as Elvis
Posted at TheLMagazine.com
Watch the "Reefer Scene" with Tim Meadows and John C. Reilly
The Great Debaters
This earnest effort pairing Denzel Washington (right) and Forest Whitaker as academics who encourage youngsters to become college debaters gets bogged down in its predictable premise. Set in the racist Deep South (circa 1935), the African-American Wiley College team takes on Harvard brainiacs in the movie's leaden climax. With Oprah Winfrey on board as producer and James Newton Howard conducting the orchestra, director Denzel settles for uplift and tears rather than disappointment and rage.
Posted at TheLMagazine.com
Sunday, December 02, 2007
The Rocket: The Maurice Richard Story
One of the better sports biopics,
The Rocket
tells the story of hockey's first 50-goal scorer, the legendary Montreal Canadian Maurice "The Rocket" Richard (played stoically by Roy Dupuis). While he and other French Canadian teammates face prejudice, less talented but more physical opponents regularly challenge Richard. More of a boxing movie at times than a hockey flick, the action is crisp and believable with plenty of blood and bruises to prove it.
Posted at TheLMag.com