Monday, July 24, 2006
Bonds turns 42, Mets up by 12 & 1/2
Baseball's a game of inches and numbers. Today's numbers are 42 and 12.5. On this day in sports, aging controversial slugger Barry Bonds turns 42. He currently has 722 HRs (he hit his last one on Thursday against the Padres), 14 for the season. He's 11 HRs away from the all-time National League record of 733. Hank Aaron's 755 total was accomplished in the NL with the Braves and in the AL with the Brewers (where he ended his career).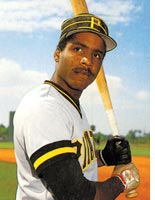 Bonds is hitting a respectable .255 with 44 RBI and an amazing 83 walks. Despite his diminishing numbers, teams still would rather not pitch to him with runners on base. The Giants are just .5 games out of first place (behind the Padres).
Last week, my brother Barry Bloom reported that
Bonds plans to play in 2007
.
Now for a few words about the Mets:
The Mets have such a large lead in the NL East - 12.5 games over the Braves - that they only have to worry about losing momentum and allowing the Braves or Phillies an opportunity to crawl back into the race. This doesn't look likely. The Mets have won 6 out of 9 games since the All-Star break. Except for Pedro Martinez, the team is healthy - and Martinez is due to pitch this weekend in Atlanta against the Braves.
I doubt they'll make a major trade before the July 31 deadline. Dontrelle Willis is not available and with recent quality outings from 4th and 5th starters ("El Duque" Hernandez, Mike Peltry, John Maine), there seems to be no reason to mess with the Mets' chemistry at this point.
Are Met fans cocky? Sure, why not? Barring major injuries to David Wright, Carlos Beltran or Jose Reyes, the Mets will finish in 1st place by at least 8 games with 100 wins. Mark my words.